What the German Packaging Act means for you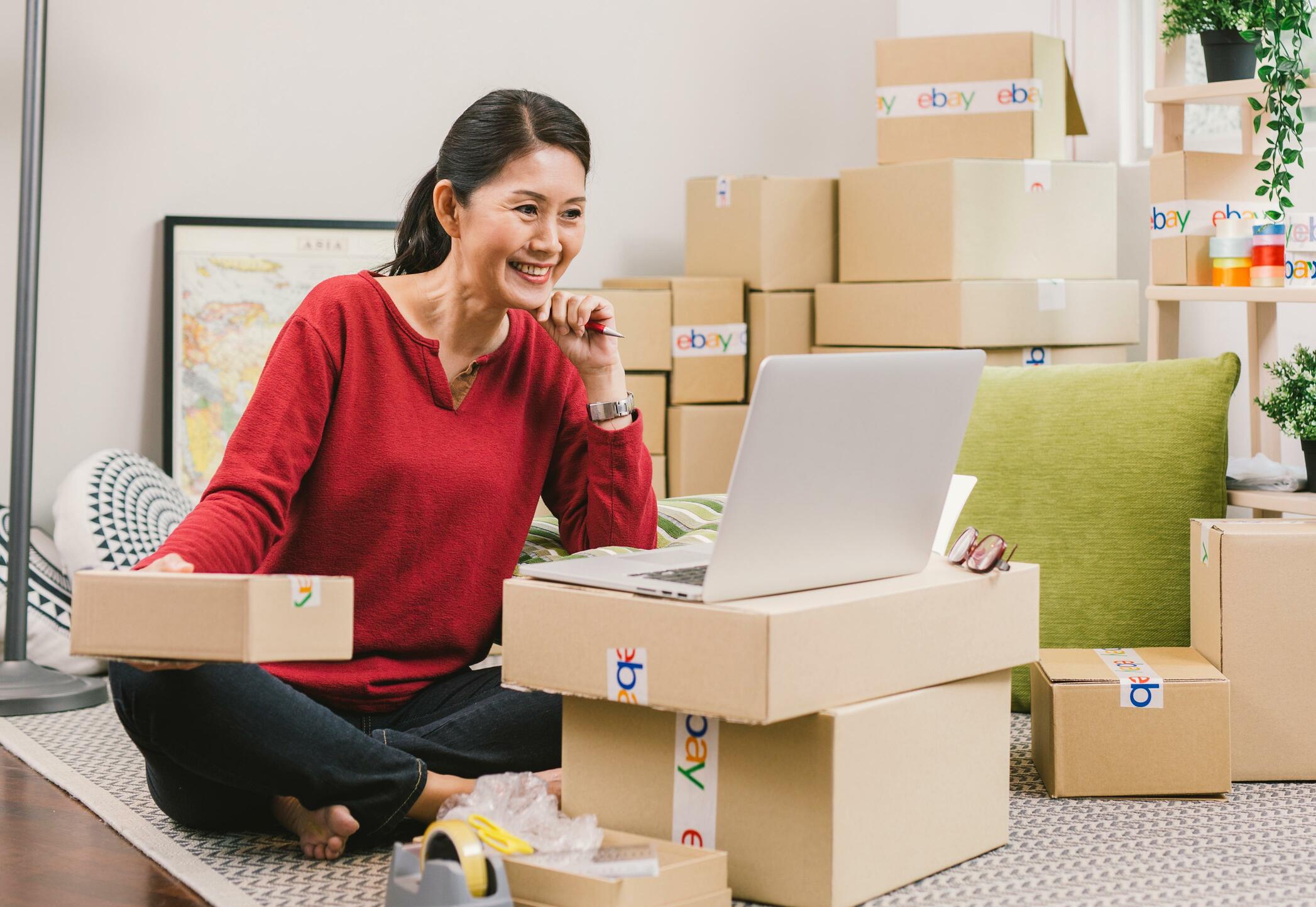 Starting July 1, 2022, all eBay sellers who ship orders to Germany must abide by the German Packaging Act (also known as VerpackG or German EPR Law). These regulations focus on sustainability and help to prevent and manage waste. As a marketplace operator, eBay is legally required to verify the compliance and impose restrictions on non-compliant sellers.​
The German Packaging Act requires every distributor who uses packaging for their products and sells them to end consumers in Germany to abide by a set of rules. Since July 1, 2022, these regulations also apply to all eBay sellers shipping orders to German buyers​.
Who is affected by the German Packaging Act?
The Packaging Act affects business sellers whose items end up with private consumers in Germany. This includes packaging your items and shipping them as well as importing already-packaged items into Germany.
Types of packaging required to be licensed
The Packaging Act concerns all packaging that ultimately ends up with the German end user and that will need to be disposed of by them. The overall term used here is "sales packaging" and this means:​
Product packaging​
Shipment packaging (including filling and cushioning materials)​
Service packaging (for example carrier bags or coffee-to-go cups)

It doesn't matter what material the packaging is made of because all packaging has to be licensed – including cardboard, plastic, and glass.​
The German EPR law imposes three obligations on sellers:​
to license their packaging with a dual system waste management provider​
to register in the German packaging register LUCID (redirecting to: https://lucid.verpackungsregister.org/) run by the central authority Zentrale Stelle Verpackungsregister (ZSVR)​
to report the name of the dual system and licensed packaging volumes to LUCID​
​eBay is legally obligated to verify sellers' compliance and apply selling restrictions to those who don't abide by this law. They won't be able to list their items on ebay.de, and regardless of what eBay site they list on, the new regulations will apply with respect to buyers with German addresses.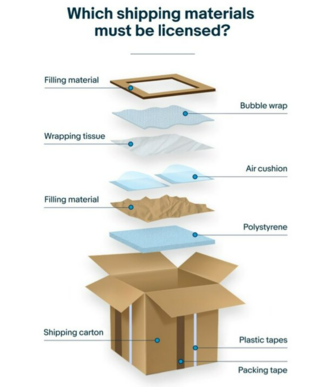 What you need to do
In order to be compliant with these regulations, you'll need to complete these steps before July 1:​
License your packaging. We've partnered with Lizenzero who offers a straightforward way to license your packaging using Interseroh+ (a licensing fee will be required).​
Register with the LUCID database. Enter the name of your dual system, as well as your packaging quantities into LUCID to receive your LUCID ID number.​
Add your LUCID ID number to your eBay seller account and you're good to go.
How to license your packaging
To facilitate the registration process, eBay has brought in its experienced partner Lizenzero. If you are not yet compliant with the German EPR law, Lizenzero offers a straightforward way to license your packaging digitally using the Interseroh+ system. You can learn more on Lizenzero's eBay service page.​
How to register your packaging according to the German EPR law:​
License your packaging with Interseroh+ via Lizenzero​
Register in LUCID and get your EPR number. Lizenzero lets you open an account without the number, but it should be provided as soon as possible.​
Enter the packaging volumes you have licensed and your dual system into the LUCID Packaging Register.​
To register in LUCID, you need to provide:​
your company name, address, and contact details;​
your VAT / Tax ID;​
a declaration that your packaging is licensed with a dual system.​
The German EPR law is meant to reduce packaging waste and improve recycling rates. Compliance with these regulations ensures more sustainability in e-commerce.
How to submit your Lucid number to eBay
Here's how you add your Lucid number to your eBay account :​
Go to the Account tab in My eBay.​
Select Business Information in the Personal Information and privacy section (you may be prompted to log in again).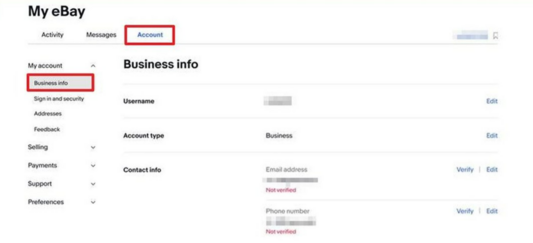 Go to the Business details section and select Add next to the Lucid ID field.
Enter your Lucid ID and click Save.​
You'll see the confirmation that your Lucid ID has been stored.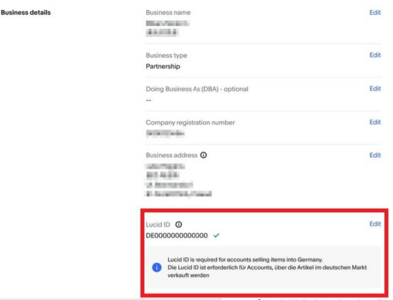 FAQ
I've already got an EPR code from another organization. Do I have to register with Lizenzero now?
No, you don't have to do it. But you still need to register in LUCID using your existing EPR code, your company information, and your VAT / Tax ID.​
Do I need to add my EPR code to my listings?
No, but you have to add the LUCID ID to the corresponding text field.
Will eBay check the validity of the EPR information in my listings?
Starting July 1, 2022, eBay regularly validates this information for each seller.
I can't enter my Lucid ID, I didn't receive the Lucid confirmation email after registering. How can I find my Lucid number?
Due to the large volume of new register requests, confirmation emails might be delayed. You can still find your Lucid ID.​
Go to your Lucid dashboard at verpackungsregister.org. Your registration number is right below the welcome message.​
Does it matter on which site I list the items?
No, if the seller ships to Germany, the obligations apply.
​ I am a small business owner. Do I need to register too?
I am subject to differential taxes. Do I need to register too?
​ What happens if I do register for DE EPR or do not add my LUCID ID to my account?
Selling privileges for the German market will need to be restricted.
I am already registered with LUCID. Can I add the LUCID ID / EPR number to more than one of my eBay accounts?
I do not ship myself, but the manufacturer does (dropshipping). The manufacturer already has a LUCID ID. What do I have to do?
You must provide the LUCID ID of the manufacturer / dropshipping service provider in your eBay account. If you have multiple suppliers, please enter the LUCID ID (EPR number) of one of your suppliers.
I only use used packaging. Do I still have to register?
Basically, all packaging that ends up with the end consumer must be verifiably licensed. The burden of proof lies with the final distributor (i.e. the retailer). This also applies to packaging that has been sent to them and that they refill. Since such proof is only available in the rarest of cases, the retailer is generally advised to fulfill the Packaging Act obligations. However, where such proof can be provided without doubt, there is of course no need for double licensing.
I use used packaging from a dealer who is already registered. Do I still have to register?
Online retailers who use used packaging from a third party known to them (such as the supplier) should have written confirmation, or ideally proof, that all packaging materials have already been appropriately licensed in accordance with the regulations.
I ship with Euro pallets. Do I still have to register?
Euro pallets must be treated like any other sales packaging and are subject to system participation. The requirements of the Packaging Act apply regardless of the material or size of the packaging.​
Since the pallet ends up with the end consumer, it is also irrelevant whether it is a deposit or a disposable pallet - both are treated the same in this case.
​ I only ship in envelopes. Do I still have to register?
If you only ship in envelopes, the following applies to you:​
envelopes are subject to system participation up to 2,500 pieces​
if there are > 2,500 pieces per year, they fall out of the licensing obligation