Make the most out of your eBay store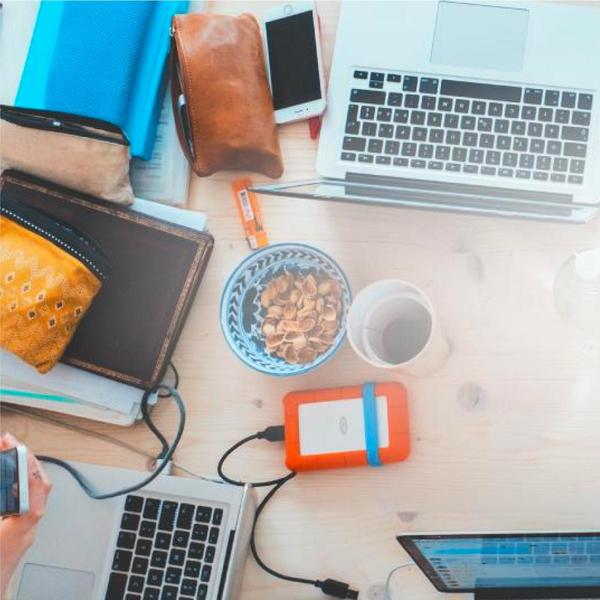 Subscribing to your own eBay Store can help you reach the right customers, manage orders more efficiently and build your brand over time.
Your eBay Store in a nutshell
You can design and customise your store to create a strong brand identity that easily distinguishes you from your competition and strengthens customer faith in the quality of your products and services. What's more, your buyers can comfortably browse your items through a customised shopfront which is easy to navigate, giving them an intuitive and delightful shopping experience. Plus you can benefit from reduced fees which makes greater financial sense in the long run.
What is an eBay Store?
An eBay Store is your all-in-one online business solution that helps you get more out of the eBay marketplace and the millions of buyers worldwide who shop on eBay.
You will get exclusive marketing and merchandising tools through the Seller Hub, plus customisation features to build a stronger brand presence to boost customers' trust and confidence in you.
Additionally, an eBay Store subscription package provides sellers with a range of options for easy selling and maximum profitability.
There are several levels of an eBay Store. Choosing the right level for your account depends on the volume that you sell and how you plan to grow your business.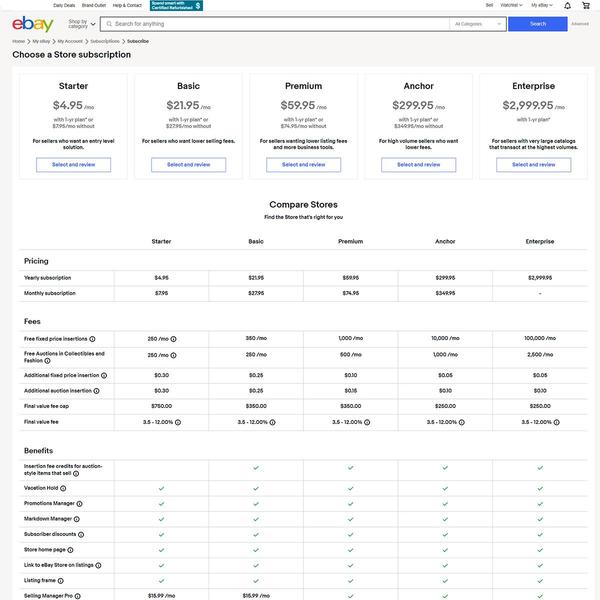 Benefits of the eBay Store include:
1
Inclusive fixed price and auction-style listings.
2
Monthly credit to spend on "Listing Upgrades" and "Promote Your Listings."
3
A voucher each month to spend on eBay-branded packaging supplies (For Featured and Anchor Stores only)
4
Powerful tools to create a unique shop front that represents your brand.
5
Access to eBay marketing tools including "Seller Hub Promotions" and "Sale Event + Markdown."
An all-in-one store that makes it easy for everyone
By showcasing all your merchandise in one location, an eBay Store creates a central shopping destination where buyers can easily learn more about you, your products and your policies. They can also browse in comfort and convenience while choosing what they want through your easy-to-navigate, customised eBay Store.
Other convenient features include:
1
Ability to divide your products into categories therefore increasing your product's accessibility and findability.
2
Ability to cross-promote your products i.e. show other related items which can potentially increase the sale of different items to buyers, especially those who are looking to maximise shipping benefits by buying more than one item from the same seller.
3
A unique link that you can post on Facebook and other sites to increase traffic to your eBay Store.
4
An internal search bar in your eBay Store which enables customers to search for other products in your store, thereby increasing the chance that they will buy from you and not your competition.
Designed to enhance customer experience
The eBay store design has changed significantly over the past few years as eBay moves into a more structured way of showcasing products.
The newly-designed experience is intended to improve Search Engine Optimisation (SEO), enhance mobile web experience and provide new merchandising opportunities for eBay Stores subscribers.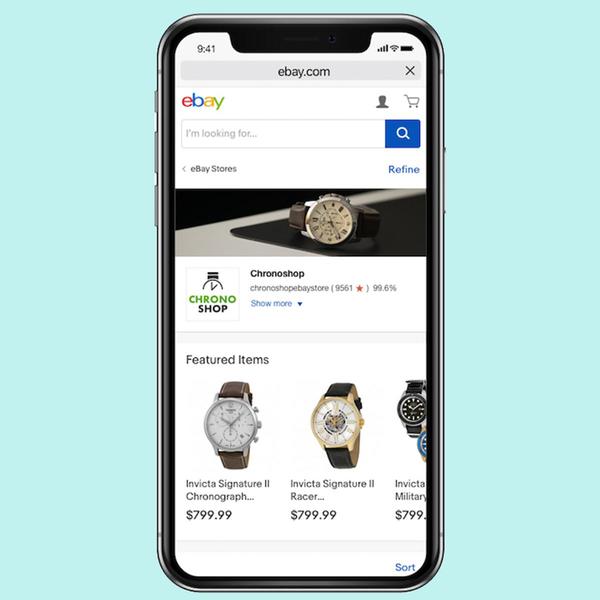 The new experience will also be active content-free* and HTTPS-ready.
*Active content is a broad term which covers any type of non-standard text that can be included in item descriptions to provide additional functionality. However, such applications can negatively affect user experience. Active content such as JavaScript and Flash hinders mobile purchases, creates longer load times and increases security vulnerabilities. To ensure the best shopping experience, it's important to be free from active content. 
The new eBay Stores design will look similar to eBay's home page and other category pages. 
The majority of sellers' Stores will be updated automatically starting May 2018. If you use custom pages or have HTML in your Store, you will be able to move to the new experience at the same time or we will move you to the new experience at a later date.
Benefits that add up
Save
Get free listings and lower final value fees.*
Brand yourself 
Design a custom homepage to bring in new and repeat buyers.
Vacation hold
Make your absence as seamless as possible for your buyers.
Boost traffic
Drive buyers to your listings and Store. 
Optimise listings
Use exclusive, powerful tools to optimise your listings.
Dedicated customer service
eBay Anchor Store subscribers have access to white-glove customer service.*
*Subject to individual store subscription benefits.
Key Benefits
1
Optimised mobile web experience.
2
Enhanced SEO and traffic benefits.
3
Showcases more relevant products for buyers.
4
Provides the highest security standard.
Savings in action
One example that demonstrates tons of savings:
| | | |
| --- | --- | --- |
| Details | Fees without a subscription | Fees with a Premium Store subscription |
| 1000 listings | Insertion fees: $332.50 | Insertion fees: $0 |
| 1000 items sold | Final value fees: $1000 | Final value fees: $615 |
| $10 per sold item | Subscription fees: $0 | Subscription fees: $59.95 |
| $10,000 in sales | Total fees: $1332.50 | Total fees: $674.95 |
| | | Total one-month savings (Premium Store): $657.55*** |
Setting up
Your active eBay listings will appear automatically in your Store, but it's up to you to decide how they are organised. Use the Store management tools to manage stock, create custom categories, showcase featured items and much more.
Think of your eBay Store as a physical store. How you display your products and arrange them is up to you. The more attractive the presentation, the more likely buyers will visit. You can organise your items within your custom Store categories, select items to feature, put items on sale and set your Store to holiday mode. 
Simply select the Marketing tab in your Seller Hub to start managing your store.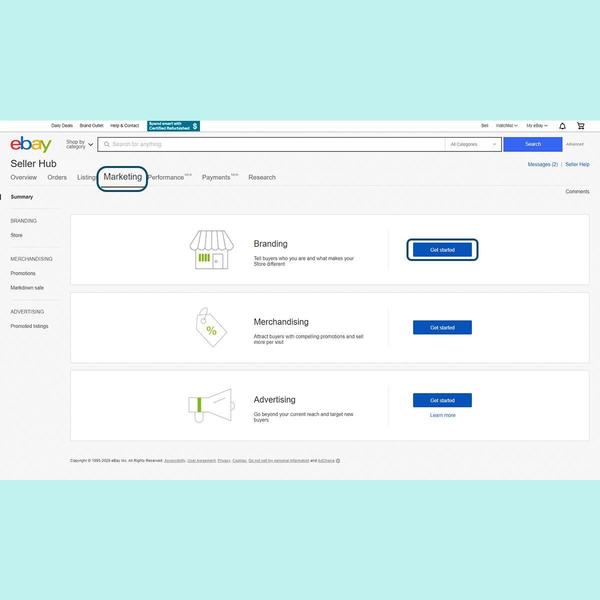 Setting Up
1.      Register as a seller on www.ebay.com.my 
Confirm that:
·       Your contact information is accurate.
·       Your credit card is on file.
·       You have a verified PayPal account.
2. Login to your chosen market (US, UK, AU, GERMANY) and choose your eBay Stores subscription
a.      Select the subscription level that best fits your needs.
b.      Choose a Store name. Keep in mind that the name you choose determines your Store's web address.
3. List & sell in your chosen market (US, UK, AU, GERMANY) and start enjoying your exclusive benefits
Get the most out of your Stores subscription.
·       Start by designing your Store's home page.
·       Utilise all the powerful tools to help maximise your sales and so much more.
Getting organised
Get organised with custom categories. Make it easier for buyers to navigate your Store and find items by using your own category structure. You can create up to 300 categories with up to three levels or subcategories (e.g. Sporting Goods > Golf > Balls
Your categories can be unique. They don't have to match eBay's category structure.
Here are some tips to get you started with category organisation:
Organise your listings according to brand, type and price.

Create special categories such as "New Arrivals" or "Clearance" to attract attention.

List items in two Store categories at no extra charge.

Add, edit, move and rename Store categories at any time.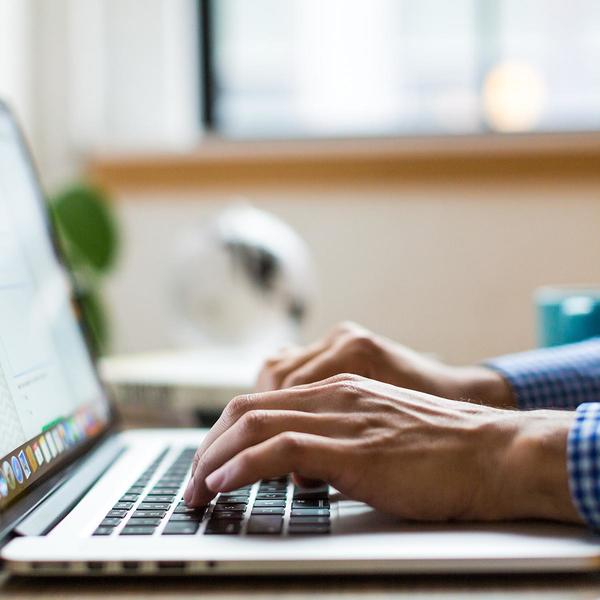 TIP
If a category doesn't have any listings, it won't appear in your Store. Any listings that are not assigned to a Store category will appear in a category named "Other Items".
Vacation Mode
Place your store on holiday
When you need to be away, you can put your store and listings "on hold." 
You can also automatically add automated messaging to listings so buyers know when you're out and when you'll be back.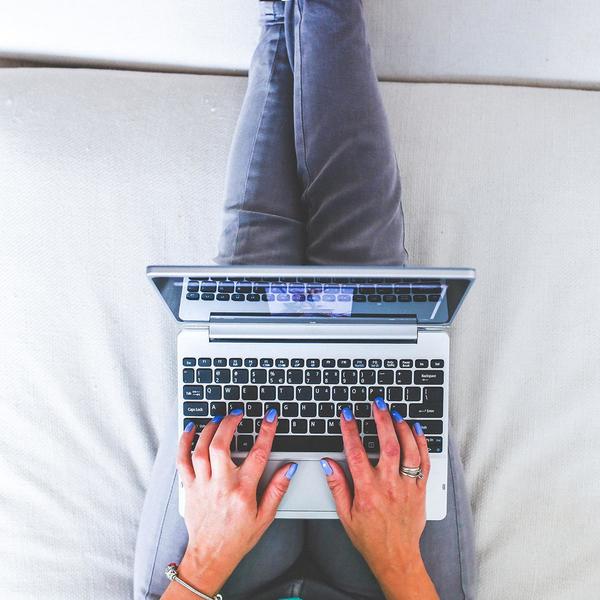 If you're going on holiday, there's no need to end your listings.
Simply turn on your Store's holiday settings to include these automated features:
1
Include a message in your listings to let buyers know you're on holiday.
2
Hide your fixed price listings while you are away.
3
Display a message on your Store's homepage using default text or your own customised message.
Your holiday settings will remain on until you turn them off.
To turn on your Store's holiday settings, go to your Messages page and click Change settings on the top right side of the page.
You can also turn on your "out of office" response to let people who try to contact you know you're away.
IMPORTANT
You will continue to be charged the normal fees (such as your Store subscription fee and any listing-related fees) while holiday settings are on.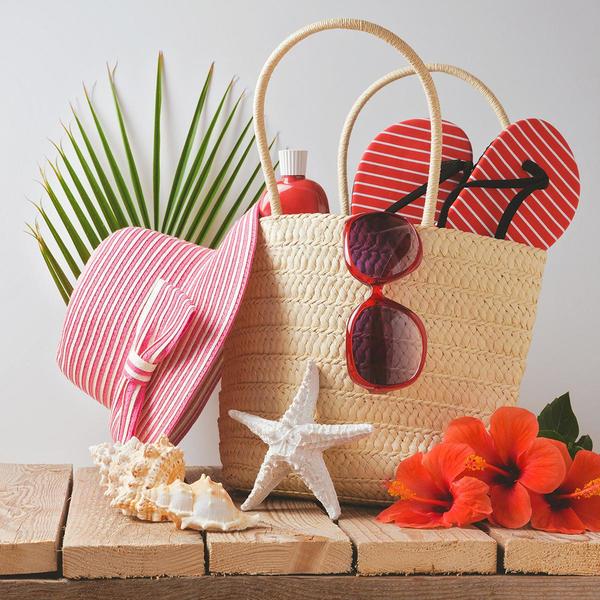 Frequently Asked Questions
How can I make changes to my Store?
You can change your logo, Store name, categories, and more at any time by going to Manage My Store located in the left navigation column of My eBay.
How many categories can I create?
You can create up to 300 Store categories. Your Store category total includes the sum of all level 1, level 2, and level 3 categories. For example, you could have 300 level 1 categories or 30 level 1 categories with 10 subcategories each. Please note: eBay automatically creates a default level 1 category named "Other Items" that can't be edited and does count toward the 300 category limit.
Can I showcase featured items?
Yes. The new storefront experience allows for top level placement for featured items. If the Store tool you use does NOT have a featured items option, please click update my Store management tool and follow the instructions. After you update your Store management tool, you will be able to select listings to feature the next time you select the "edit Store" link.
How can I change my Display Settings/Sort Order?
Log in to My eBay and under the Account tab, click on Manage My Store > Click on Display Settings under Store Design in the left navigation > Under Theme and Display, click on Change" next to Item Display Settings > Scroll down to Sort Order and choose your preference from the drop–down menu. > Click Save Settings.
There you have it. Everything you need to know about the eBay Store and why having a subscription is good for your business.