Bulk Listing & Editing Made Easy with eBay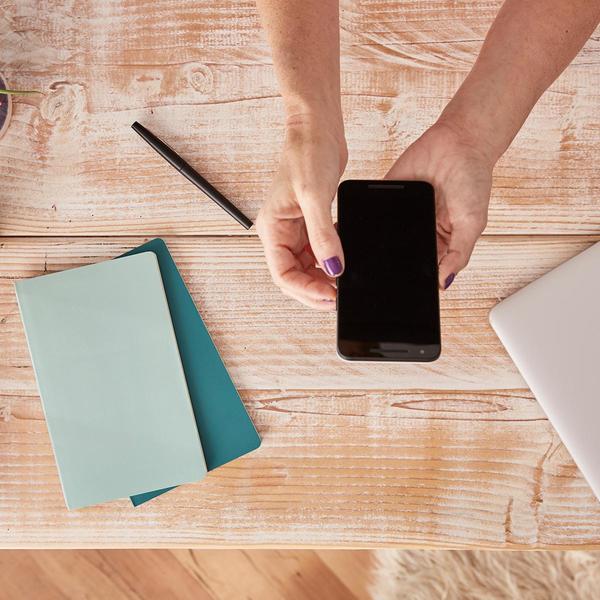 One of the greatest joys for an eBay seller is when your things move fast. Time is money!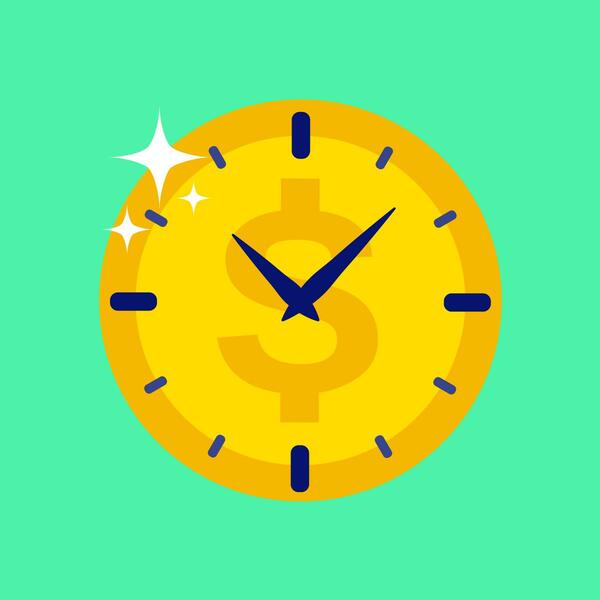 Fortunately, there are 2 separate tools on eBay that make it easy for you to create and edit listings in bulk, ensuring your business can keep on moving. The Listing Template helps you create new listings faster and the Bulk Editing tool on the Seller Hub helps you edit up to 500 listings at once. Read on to learn more.
Create listing templates to list faster and more efficiently
With the Listing Template, you can semi-automate your listing process and save hours of work on individual listings.
Listing templates are especially useful when you're selling items of the same category but with different unique designs or specifications. You no longer have to start from scratch every time you list a new item. It also helps ensure that you give buyers consistent and accurate information across all your listings.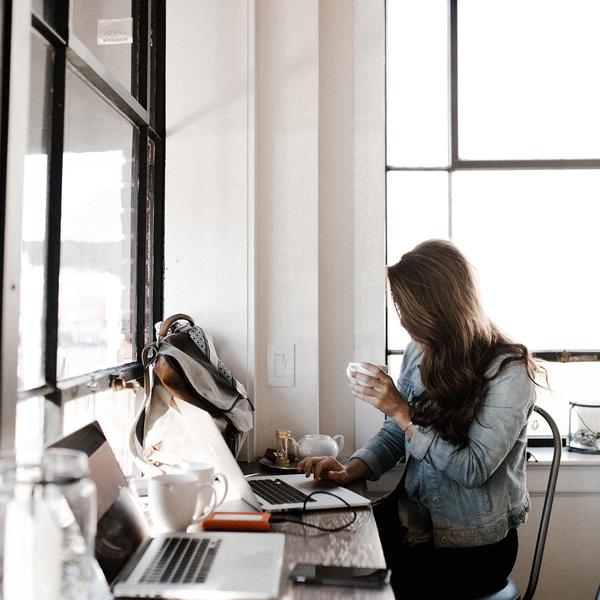 Here's an example:
Let's say you have 20 new t-shirts with different designs. They all fall under the same item category. Furthermore, sizes, prices, returns & shipping policies are the same across the board.
So, what you do is create a T-Shirt listing template with the information that will repeat for all your t-shirt listings. Then focus on updating the photos, unique descriptions and specifics for all 20 T-shirts. 
Once you have set up a template, it's easy to revise, rename, or delete it, if you need to make a change.
However, remember to stay on the safe side of the duplicate listings policy.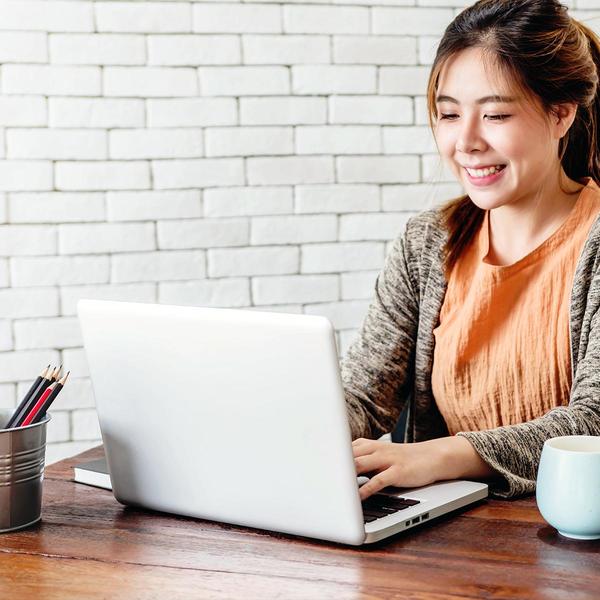 Bulk edit up to 500 listings at once
There are many reasons why you might want to make changes to a listing after it's gone live.
For example, you may have restocked an item and need to update the quantity in a listing. Or there may be a recurring question from your buyer which requires you to add more information to your item description.
Worry not. The eBay Bulk Editing feature makes it easy for you to edit up to 500 live listings at a time, no matter if it's a draft, inactive or active.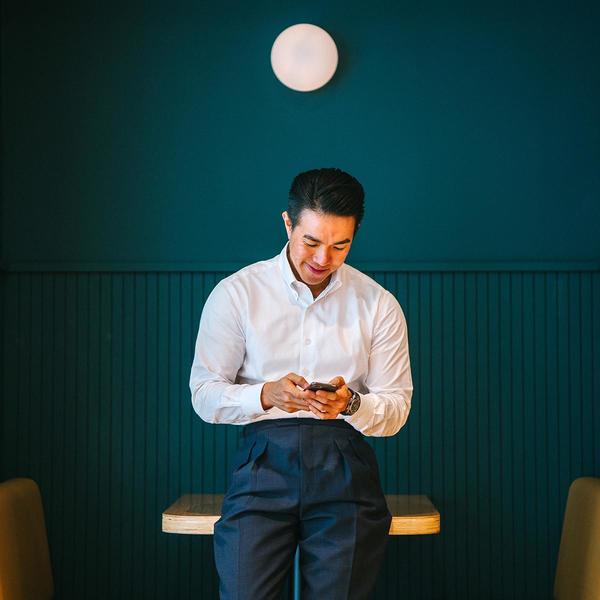 What you can change in your listing depends on:
1
The listing format you've chosen (fixed price or auction)
2
The time until the listing closes.
3
Whether an item has received bids or sold.
What you can edit
Here's an overview of what you can bulk edit and when you can do it.
1
You can edit your listing details such as the title, photos and descriptions. You can also edit other details such as the categories, shipping & returns policy.
2
You can lower the price for fixed price (Buy It Now) listings and auction listings with more than 12 hours left and no bids.
3
In most cases, you can't change the listing duration or format. For example, you can't change a fixed price listing to an auction listing.
Auction details that you can edit at a glance
Auction-style listing without bids
Duration

Details that you can edit

More than 12 hours left

Change anything except the listing format.

Change the duration if the listing is less than 2 hours old.

Less than 12 hours left

Change the category and add item specifics.

Add a secondary category.

Add to the item description.

Add optional features to increase your item's visibility.

Add a gallery picture.

Add pictures.

Reduce the starting price of your item.
(You won't receive credit for any difference in your insertion fees.)

Add new payment methods and postage locations.



Auction-style listing with bids
Add a second category.

Add to the item description.

Add pictures.

Add optional features to increase your item's visibility.
How to Create a Listing Template
Here's a step-by-step guide on how to create a Listing Template. If you'd like to learn how to Bulk Edit your listing, scroll down further.
1. Click on "Sell" or "Selling" under the My eBay dropdown menu.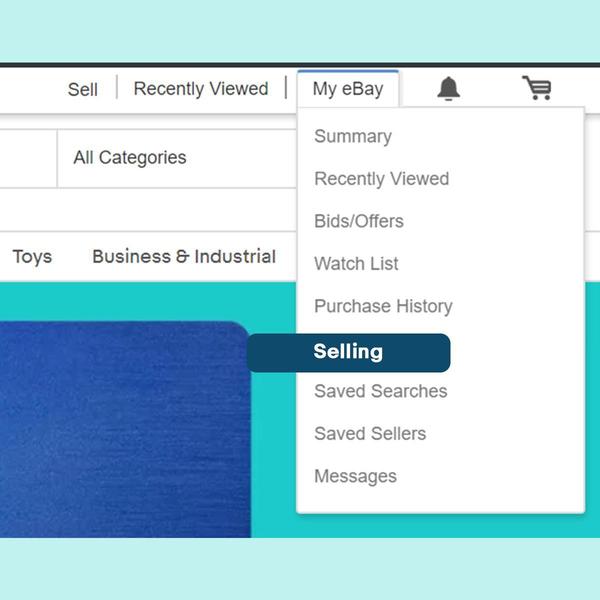 2. In the Seller Hub, select "Create Listing" from the "Listings" menu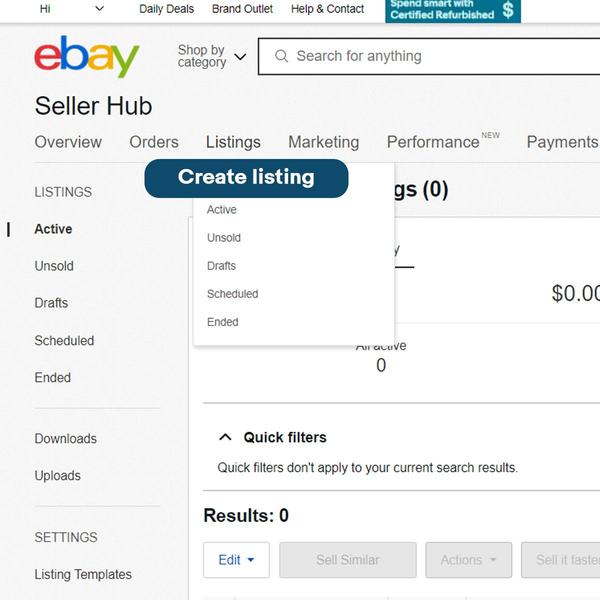 3. At the bottom of the page you will see "Create New Template."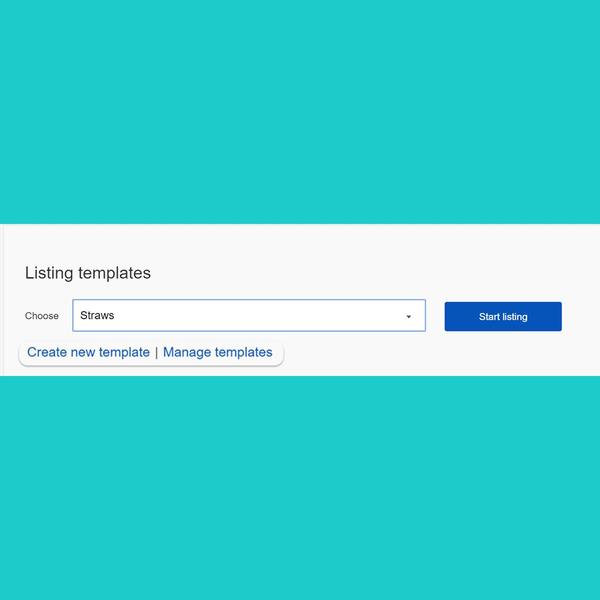 In the "Selling details" section of the listing form, select "Fixed price."
Enter the number of items you're selling under "Quantity."
You can decide whether buyers see exactly how many of that item you have left or a ballpark figure such as "More than 10".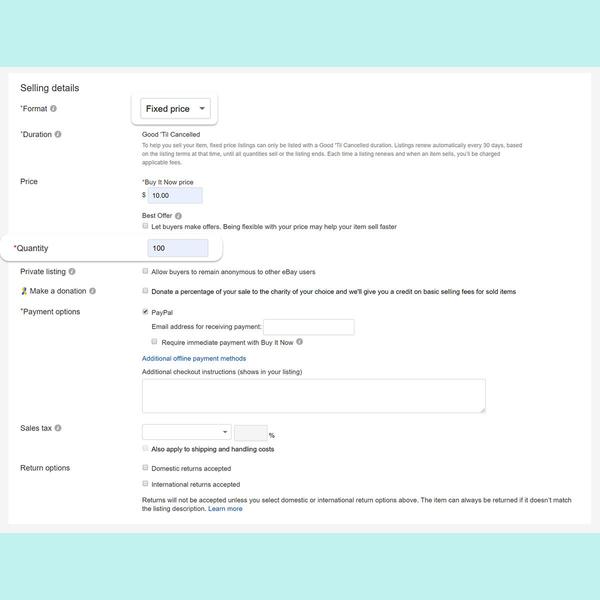 Once you have filled in all the details, you can either "Save or Preview Template."
You can create up to 10 different templates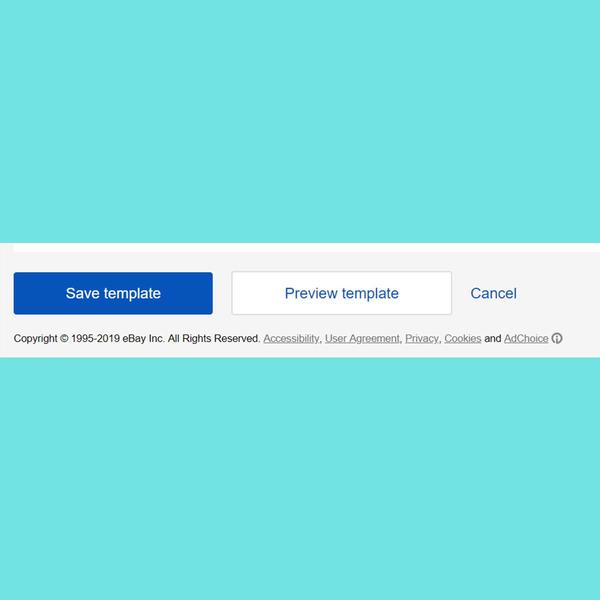 To create a listing from your template:
1. Go to "Listing Templates" in Seller Hub.
2. Select "Create Listing" from the "Actions" dropdown menu.
3. Create your listing.
Quantity Display Preference
Go to My eBay > Account > Site Preferences > Sell Your Item form and listings and click on "Edit."
Show the exact quantity of items in your listing if the quantity exceeds 10 and select your preferred option.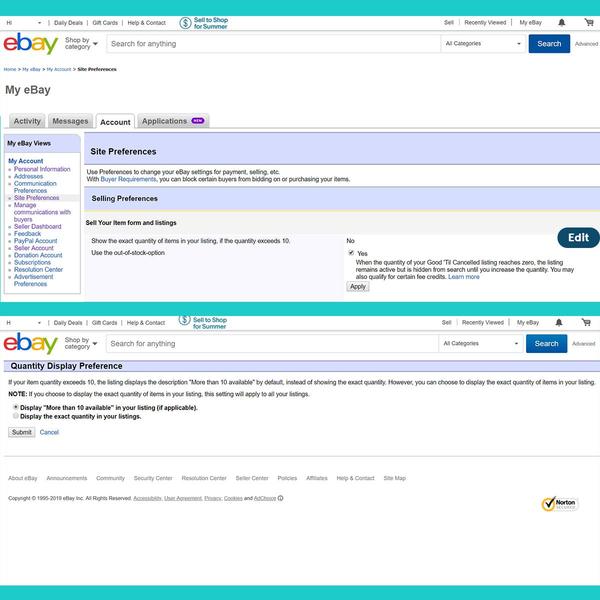 How to Bulk Edit your listings
To edit multiple live listings at once, follow these steps:
1. Click "My eBay" at the top of any eBay page and chose "Selling."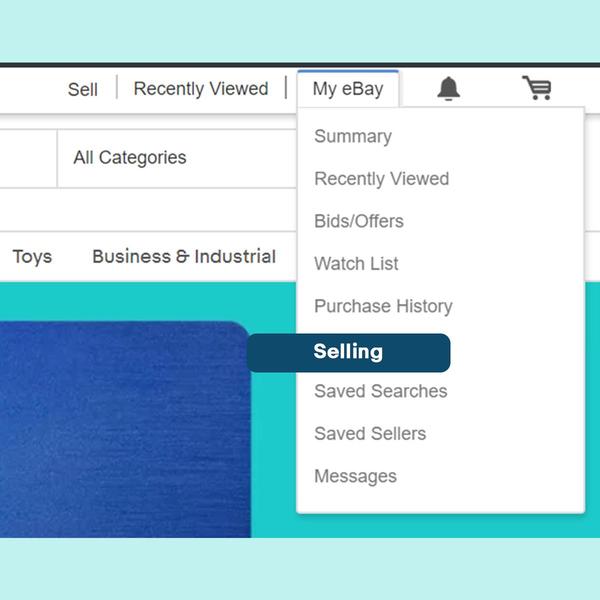 2. Click on "Listings" and check the box beside the listings that you want to edit.
Then click the "Edit" button, and your listings will appear in a spreadsheet-type form.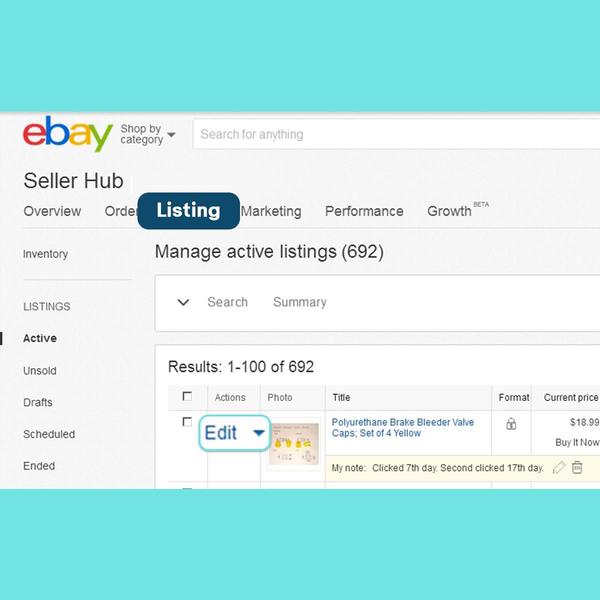 3. Click the boxes you want to change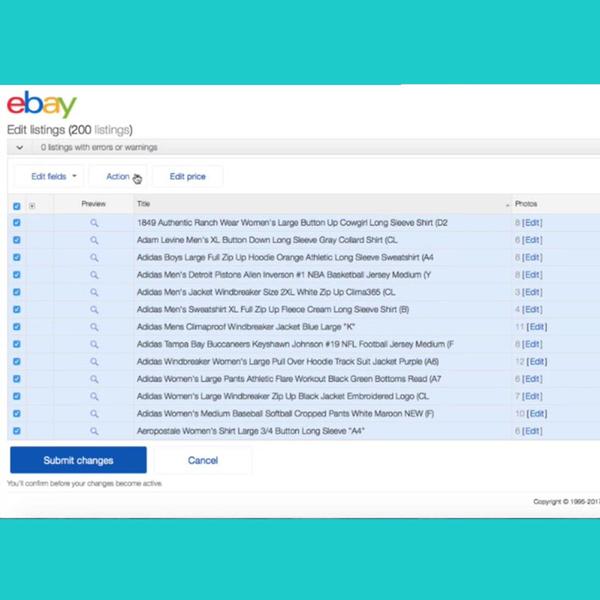 4. Here is where you will find a list of options to edit:
Categories

Charity Donations

Condition

Custom Label

Shipping & Return Options

Item description, location & specifics

Payment Options

Listing Upgrades and Volume Discounts

Sales Tax and others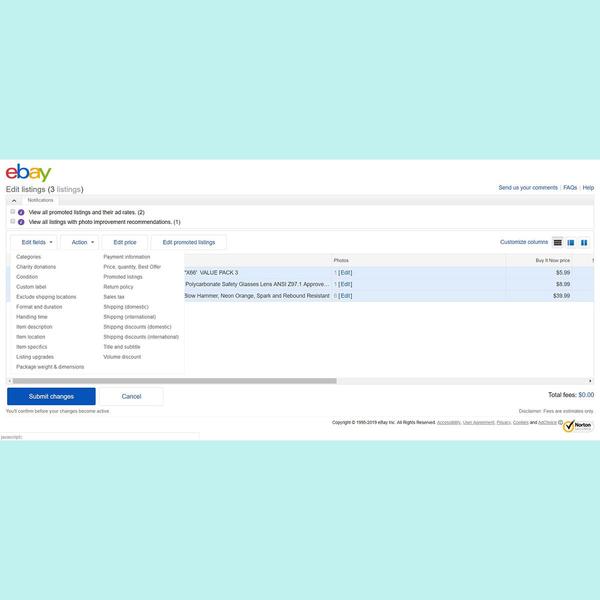 4a. Under "Return policy," a pop-up window will appear which will allow you to change the following:
Whether or not you accept returns: Remember that even if you choose not to accept returns, buyers may still request a return if an item doesn't match its description.

The return timeframe: Choose 14, 30 or 60 days.

How the refund will be issued: Choose from money back, replacement or exchange.

Who pays for return shipping: Consider offering free shipping to attract more customers. Alternatively, you can specify circumstances when the buyer pays return shipping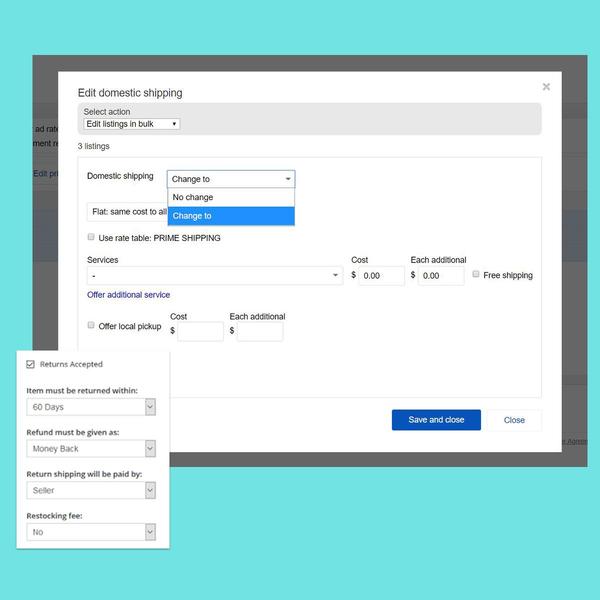 Don't make things harder on yourself! The eBay Listing Template and Bulk Editing tool can help you do things faster, better and more efficiently. Master using these features and enjoy a smooth sailing selling experience!