adidas Yeezy 700 V3 Azareth
for Your Icy Blue Collection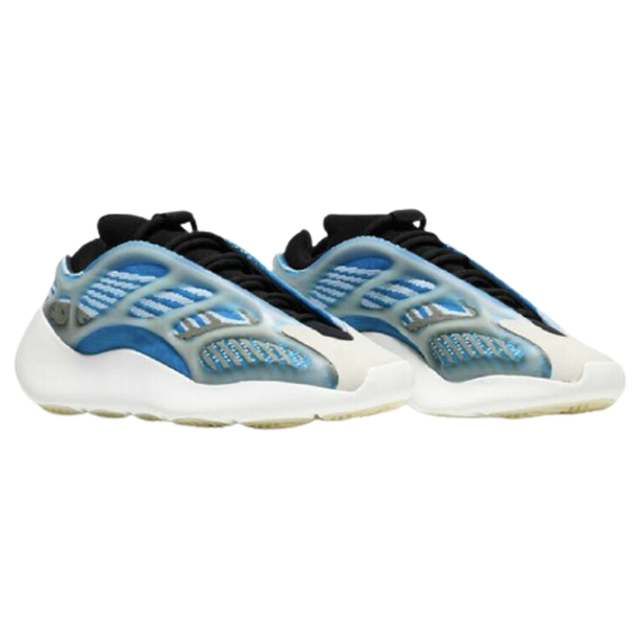 The adidas Yeezy 700 V3 Azareth were released August 29, 2020, in a full range of sizes, including adult, kids, and infants. Kanye West has been releasing Yeezy sneakers with adidas since 2015. This version is a pair of low-top fashion sneakers with a blue, white, black, gray, and green colorway.
adidas Yeezy 700 V3 Azareths shoes glow in the dark

Yes, these blue Yeezys glow in the dark. It's the web-like cage part of the shoes that glows. The cage has a translucent icy blue color when it's not glowing. There is also some reflective material on the toes that glows in the dark.
Materials that go into the adidas Yeezy 700 V3 Azareth
This shoe has a running-inspired design with a net-like glow-in-the-dark translucent cage and a Primeknit upper. The cage is made of TPU, a material that's like a mixture of rubber and plastic. Primeknit is the material choice for the upper. Other materials include neoprene for the sock liner, EVA for the midsole, and herringbone rubber for the outsole.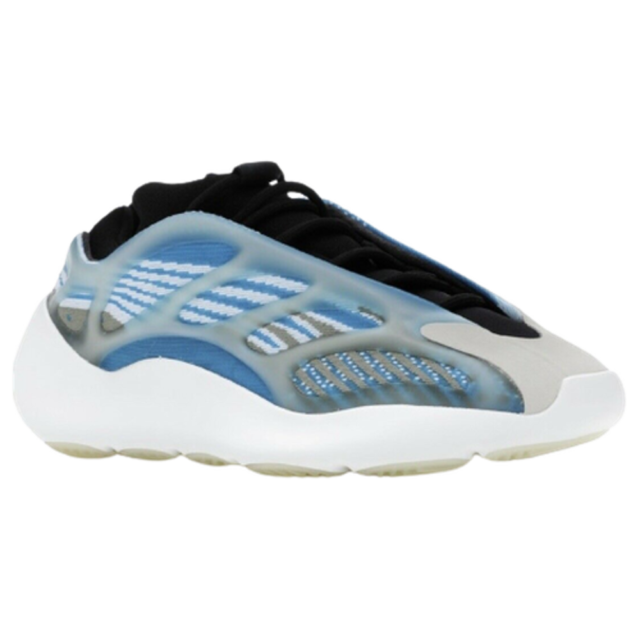 Yeezy 700 V3 Azareths closure style
These Yeezy shoes don't have zippers. They feature a bungee cord lace-up design. You can adjust the tightness of the laces to wear the shoes at your preferred level of snugness.