Nike Bo Jackson Sneakers Bring '90s Style Back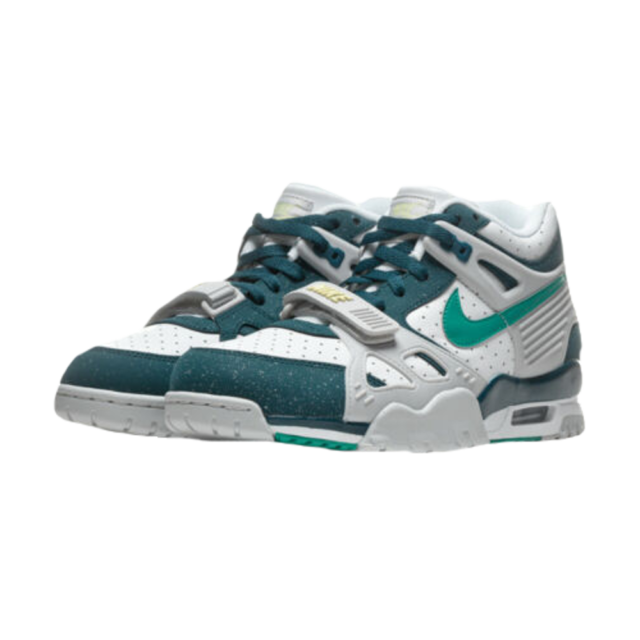 There's little question that Bo Jackson was one of the greatest athletes of the '90s; he played two sports professionally at the top level, and he was an Olympic-level track and field star. During his heyday, Nike opted to create USA men's sneakers to commemorate this athlete's skill called the Air Trainer shoe line. These high-top basketball shoes had several color variations, including one designed to emulate the medicine ball that Jackson used relentlessly to train. These retro Air trainers released first in 1988 and were re-released in 2000 so that wearers of a newer generation would have a chance to enjoy these high-top basketball shoes. These shoes are designed for performance, and they have all of the features expected of Nike Air sneakers, including the eponymous airbag in the sole.
What are the training features of the Nike Bo Jackson sneakers?

These are shoes that are designed to embrace the training lifestyle that made Bo Jackson so famous, so there are several features included in these 1990s basketball shoes that are intended to help your performance. Here are a few to consider:

Air Sole Units – Originally developed by Frank Rudy based on technology that he created for NASA, the Air Sole Units found in most of Nike's Air sneakers are designed to aid users as they exercise. At the base of the sole is a pocket or bag of pressurized nitrogen that has polyurethane pillars for extra springiness. As you exercise, these features form a cushion that protects the legs and feet from shocks and increases the comfort level.
Thicker Soles – These shoes are designed for activity, so Nike opted to include a thicker sole in the rear. This adds more traction to the shoe and makes it easier to pivot when you need to. Additionally, this provides a good degree of shock absorption while working out.

Removable Footbed – Also called sock liners, removable footbeds help promote comfort. By removing the footbed, you can add in a supportive insole or custom orthotic according to your unique needs.
Foam Insoles – The air sole units are designed to provide cushioning and shock absorption, but the insoles also do this to a lesser degree. The removable footbed insoles have extra cushioning at the toe and heel to provide support as you pivot and spring forward. Nike's foam insoles are known to also form to the foot. See the manufacturer site for details.
Why is there a strap on these Nike Bo Jackson sneakers?
For the most part, the belt that is present on the top or upper area of the sneaker is a means to provide you with a true to size fit that will add stability as you train or exercise. These straps adhere using Velcro, and they are fashioned out of a plastic material. In addition to securing your sneakers for a stable fit, these also help aid in proprioception, which helps provide a degree of feedback while you're exercising. When strapped in, you'll have an easier time feeling changes in the terrain so that you can react more naturally during your exercise.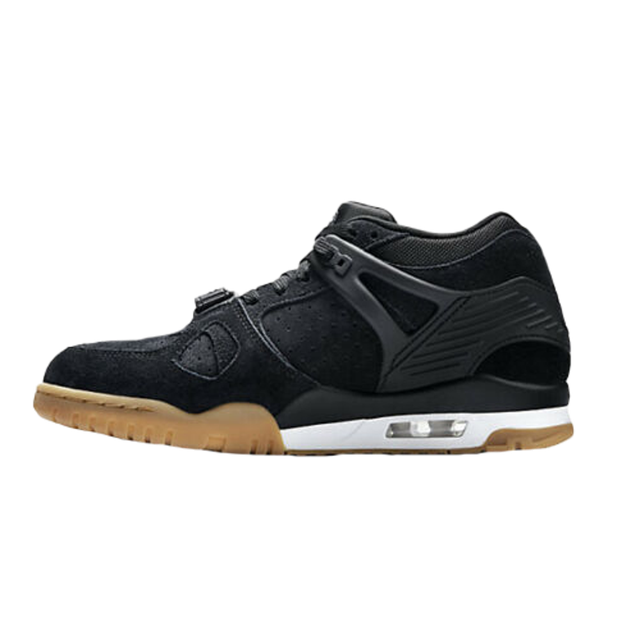 What are the models of Nike sneakers endorsed by Bo?
There are several variations of the sneaker that were endorsed by the all-star athlete. These include the Nike Air Trainer 1, Nike Air Trainer II, Nike Air Trainer III, Nike Air Trainer SC, Nike Air Trainer SC II, and the Nike Air Trainer Max '91.
Nike Bo Jackson Sneakers vs. adidas Swift Run Sneakers
| | Nike Bo Jackson Sneakers | adidas Swift Run Sneakers |
| --- | --- | --- |
| Fit | True to size | True to size |
| Materials | Leather, rubber soles | knit upper, rubber outsole |
| Closures | Cloth laces | Cloth laces |
What are the colors used in the "medicine ball" variation?
One of the more iconic Bo Jackson sneaker variations is the medicine ball style of high Miami Dolphins shoes. These medicine ball sneakers have a blend of white, tan, off-white, and blue, similar to the blue and tan medicine balls that Bo regularly trained with. Over the years, several releases of the medicine ball variation can be found in the Huarache, Max 360, and Air Trainer III lines.
Content provided for informational purposes only. eBay is not affiliated with or endorsed by Nike, the Miami Dolphins, Bo Jackson, or adidas.